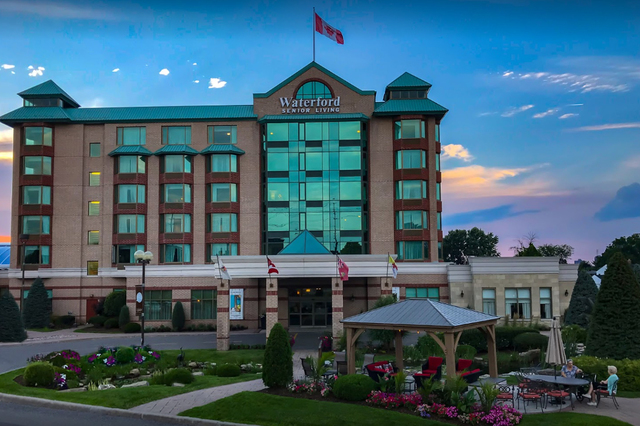 Waterford Retirement Community
OUR FAMILY CARING FOR YOURS, SINCE 1958. For almost 60 years the Zlepnig family has served the greater Ottawa community dating back to the humble beginnings of the Southway Motel in 1958 when first generation Canadians, Peter and Theresia Zlepnig built a modest 7 unit motel. As Ottawa grew so did the Zlepnig family business. Bill (son) and Louisa Zlepnig guided the property through a series of expansions that culminated in a full service Hotel with 170 guest rooms, Shallows Restaurant, meeting rooms & banquet facilities. Enter the third generation. Bill & Louisa have now passed down the Southway legacy to their sons, Fred & Stephen and their respective wives, Karen & Leslie. Together, they are transforming the Southway into their Waterford brand of seniors' residences. Since 1996 they have been creating and developing innovative and industry leading residences. Inspired by the loss of Karen's mother to Alzheimer's disease the Waterford brand has evolved into a full continuum of care residence ensuring that a broad range of care needs can be met. To this end, the Waterford Ottawa is the only seniors residence in North America with a fully enclosed, climate-controlled atrium and a retractable roof. This remarkable and innovative courtyard is designed as comfortable outdoor living space that will be enjoyed year round inside.
airline_seat_individual_suite Suite Types:
drive_eta Transportation:
location_city External Services:
room_service in Home Services:
Respite/Convalescent Care Available
local_florist Housekeeping:
local_laundry_service Laundry Services:
wifi In Suite Features:
Individual Climate Control
Emergency Response System
Furnished Suites Available
attach_money Pricing Information:
Cost for Above Ground Parking: $0
local_atm Accepted Deposit Payments:
credit_card Payment Accepted:
all_inclusive Care Levels:
Secured Memory Care Floor
location_city Accreditations
Better Business Bureau
Description
BBB's mission is to be the leader in advancing marketplace trust. We do this by: - Setting standards for marketplace trust - Encouraging and supporting best practices by engaging with and educating consumers and businesses - Celebrating marketplace role models - Calling out and addressing substandard marketplace behavior - Creating a community of trustworthy businesses and charities https://www.bbb.org/
ORCA
Description
The Ontario Retirement Communities Association (ORCA) is a voluntary non-profit association that represents operators of retirement residences in Ontario. Our vision is to lead the sector through innovation to meet the social infrastructure needs of seniors today and in the future. https://www.orcaretirement.com
Retirement Home Regulatory Authority
Description
The Retirement Homes Regulatory Authority (RHRA) is responsible for administering the Retirement Homes Act, 2010 (the Act), which includes licensing and regulating retirement homes on behalf of the government of Ontario. We are an independent, self-funded, not-for-profit corporation, committed to the protection and wellbeing of seniors living in retirement homes. https://www.rhra.ca/en/
Additional fees may apply. All features have been provided by the companies. TheLocalSenior.com is not responsible for confirming accuracy.
Compare this service with another one
place Address: 2431 Bank St, Ottawa, ON K1V 8R9, Canada, Ottawa