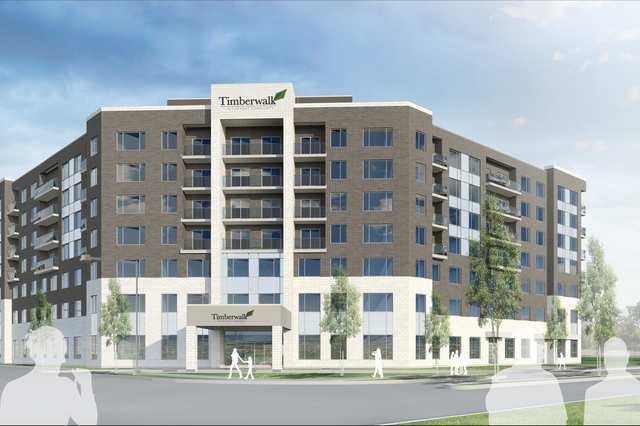 Timberwalk Retirement Community
Opening Fall 2019, Timberwalk offers independent living, residential care, physical assisted living and Memory Care. Beautiful modern suites range from single studios, to one or two bedroom apartments. Our staff will take care of the basics while our residents enjoy home cooked nutritious meals in our well appointed dining room, join new friends for a game of bridge or pool in the lounge , relax in the garden or take a dip in the salt water exercise pool. Registered staff on site 24/7 with emergency call pendants in each suite. We provide everything you need for your safety, comfort and enjoyment so that you can live life on your own terms. Our word of mouth reputation is what continues to sell, we say what we do and we do what we say --- Locally owned and operated by Riverstone for over 10 + years, look at retirement living differently.
airline_seat_individual_suite Suite Types:
drive_eta Transportation:
Shuttle Service - Personal
location_city External Services:
room_service in Home Services:
Respite/Convalescent Care Available
local_florist Housekeeping:
local_laundry_service Laundry Services:
wifi In Suite Features:
Individual Climate Control
Emergency Response System
Private Patio/Balcony Option
Furnished Suites Available
attach_money Pricing Information:
Starting Price: $3300.00
Cost for Underground Parking: $60.00
local_atm Accepted Deposit Payments:
credit_card Payment Accepted:
all_inclusive Care Levels:
Secured Memory Care Floor
location_city Accreditations
ORCA
Description
The Ontario Retirement Communities Association (ORCA) is a voluntary non-profit association that represents operators of retirement residences in Ontario. Our vision is to lead the sector through innovation to meet the social infrastructure needs of seniors today and in the future. https://www.orcaretirement.com
Retirement Home Regulatory Authority
Description
The Retirement Homes Regulatory Authority (RHRA) is responsible for administering the Retirement Homes Act, 2010 (the Act), which includes licensing and regulating retirement homes on behalf of the government of Ontario. We are an independent, self-funded, not-for-profit corporation, committed to the protection and wellbeing of seniors living in retirement homes. https://www.rhra.ca/en/
Additional fees may apply. All features have been provided by the companies. TheLocalSenior.com is not responsible for confirming accuracy.
Compare this service with another one
place Address: 1250 Maritime Way, Kanata, ON K2K, Canada, Ottawa