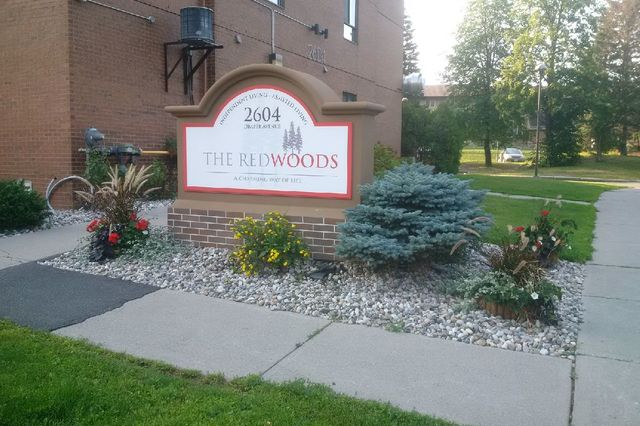 The Redwoods
Renowned for our spacious one and two bedroom senior apartments, The Redwoods is the ideal retirement choice for the active couple or for the person who want to maintain their independence while accessing our 24/7 nursing care program. Almost all the apartments have balconies, in suite storage and full kitchens allowing our residents the option of meal choices in our dining room or the possibility to still cook for them selves. While there's lots to do in the neighbourhood, The Redwoods itself is the hub of most residents' busy lifestyles. Enjoy meals with friends, participate in a fitness program, play cards or enjoy any of the large variety of activities offered. And, while you're enjoying the things you really like to do, the attentive staff at The Redwoods will take of the mundane chores like cooking and housekeeping. Now that's retirement!
airline_seat_individual_suite Suite Types:
drive_eta Transportation:
Scheduled Transportation Service
location_city External Services:
room_service in Home Services:
Respite/Convalescent Care Available
local_florist Housekeeping:
local_laundry_service Laundry Services:
wifi In Suite Features:
Individual Climate Control
Emergency Response System
Private Patio/Balcony Option
local_atm Accepted Deposit Payments:
calendar_today Upon Lease Deposit:
Last Months rent required
credit_card Payment Accepted:
all_inclusive Care Levels:
location_city Accreditations
ORCA
Description
The Ontario Retirement Communities Association (ORCA) is a voluntary non-profit association that represents operators of retirement residences in Ontario. Our vision is to lead the sector through innovation to meet the social infrastructure needs of seniors today and in the future. https://www.orcaretirement.com
Retirement Home Regulatory Authority
Description
The Retirement Homes Regulatory Authority (RHRA) is responsible for administering the Retirement Homes Act, 2010 (the Act), which includes licensing and regulating retirement homes on behalf of the government of Ontario. We are an independent, self-funded, not-for-profit corporation, committed to the protection and wellbeing of seniors living in retirement homes. https://www.rhra.ca/en/
domain Associations
CARP
Description
CARP is Canada's largest advocacy association for older Canadians. Formerly the Canadian Association for Retired Persons, today CARP has more than 300,000 members aged 50 plus. As a non-partisan association, CARP is committed to working with all parties in government to advocate for older Canadians. Its mission is to advocate for better healthcare, financial security, and freedom from ageism. CARP members engage in polls and petitions, email their elected representatives, connect with local chapters and share stories and opinions on urgent issues. www.carp.ca
Additional fees may apply. All features have been provided by the companies. TheLocalSenior.com is not responsible for confirming accuracy.
Compare this service with another one
place Address: 2604 Draper Ave, Ottawa, ON K2H 9B1, Canada, Ottawa