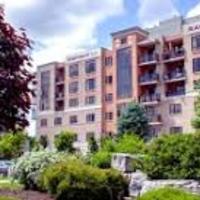 The Ravines Senior Suites
Ravines offers you tranquility in one of Ottawa's most scenic neighborhoods, Prince of Wales. You are just moments away from Ottawa's best shopping, dining, entertainment and walking paths along the Rideau Canal. Perhaps you enjoy watching the boats at Hog's Back, or having a bite to eat at Dow's Lake along the water, or taking a quick trip to the vibrant village of Manotick… whatever you enjoy, Ravines has it all. And if you appreciate spacious, contemporary, high-quality living with top-notch amenities and the ultimate fine-dining experience, then you will surely enjoy the Alavida Lifestyle that Ravines has to offer!
airline_seat_individual_suite Suite Types:
drive_eta Transportation:
Shuttle Service - Personal
location_city External Services:
room_service in Home Services:
Respite/Convalescent Care Available
local_florist Housekeeping:
local_laundry_service Laundry Services:
wifi In Suite Features:
Individual Climate Control
Emergency Response System
Private Patio/Balcony Option
local_atm Accepted Deposit Payments:
calendar_today Upon Lease Deposit:
First Months rent required
credit_card Payment Accepted:
all_inclusive Care Levels:
Additional fees may apply. All features have been provided by the companies. TheLocalSenior.com is not responsible for confirming accuracy.
Contact Information
phone696-696-XXXX
emailXXXXXX@thelocalsenior.com
Contact Business Directly
Compare this service with another one
place Address: 636 Prado Private, Nepean, ON K2E 0B3, Canada, Ottawa