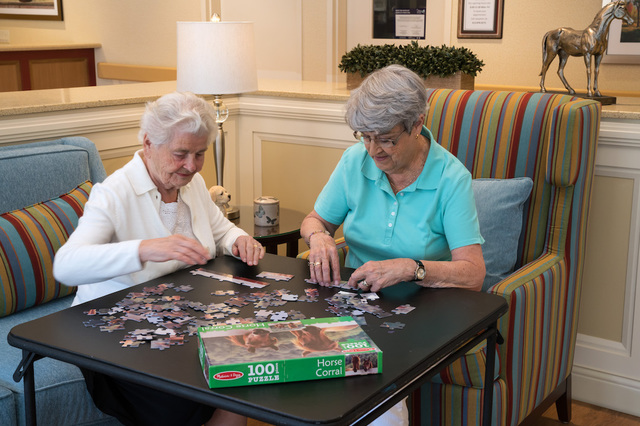 The Courtyards on Eagleson
The Courtyards on Eagleson is a uniquely designed retirement community, having taken into consideration the special design requirements needed for those living with cognitive impairments such as Alzheimer Disease and Dementia. This single-story building allows the dedicated team of staff to offer the ultimate in quality of life to our residents, regardless of where they find themselves in the aging process. The Courtyards is a Specialized Memory Care Residence providing for both the mental and physical needs of clients with Dementia and Alzheimer Disease. We provide assisted living care for those who are experiencing challenges of day to day life and strive to make everyday the very best and highest quality of life possible today, tomorrow and through end of life.
airline_seat_individual_suite Suite Types:
drive_eta Transportation:
Scheduled Transportation Service
location_city External Services:
room_service in Home Services:
Respite/Convalescent Care Available
local_florist Housekeeping:
local_laundry_service Laundry Services:
wifi In Suite Features:
Individual Climate Control
Emergency Response System
local_atm Accepted Deposit Payments:
calendar_today Upon Lease Deposit:
First Months rent required
credit_card Payment Accepted:
all_inclusive Care Levels:
Secured Memory Care Floor
location_city Accreditations
Retirement Home Regulatory Authority
Description
The Retirement Homes Regulatory Authority (RHRA) is responsible for administering the Retirement Homes Act, 2010 (the Act), which includes licensing and regulating retirement homes on behalf of the government of Ontario. We are an independent, self-funded, not-for-profit corporation, committed to the protection and wellbeing of seniors living in retirement homes. https://www.rhra.ca/en/
Additional fees may apply. All features have been provided by the companies. TheLocalSenior.com is not responsible for confirming accuracy.
Compare this service with another one
place Address: 630 Eagleson Rd, Kanata, ON K2M 1H4, Canada, Ottawa