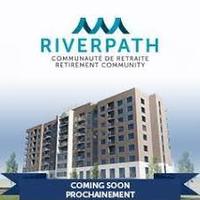 Riverpath
You're looking for a new place you can feel carefree and young at heart. Where your meals are served by friendly staff in a luxurious dining room. Where you can enjoy a game of bridge, an outing on the bus or a walk through the woods to listen to the birds sing. Where your old friends can visit and meet your new friends. You're probably looking for a place exactly like Riverpath a place where you'll find exactly the kind of active, carefree lifestyle you deserve, with all the comfort and services that allow you to focus on what's important – simply enjoying life!
airline_seat_individual_suite Suite Types:
drive_eta Transportation:
location_city External Services:
room_service in Home Services:
Respite/Convalescent Care Available
local_florist Housekeeping:
local_laundry_service Laundry Services:
wifi In Suite Features:
Individual Climate Control
Emergency Response System
Private Patio/Balcony Option
local_atm Accepted Deposit Payments:
calendar_today Upon Lease Deposit:
First Months rent required
credit_card Payment Accepted:
all_inclusive Care Levels:
Secured Memory Care Floor
Additional fees may apply. All features have been provided by the companies. TheLocalSenior.com is not responsible for confirming accuracy.
Compare this service with another one
place Address: 80 Landry St, Vanier, ON K1L 0A8, Canada, Ottawa