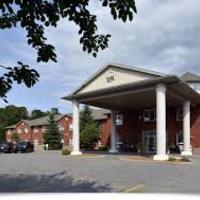 Orchard Walk
Located on 15 acres in Greely, Orchard Walk offers a property like no other. With ample grounds, a duck pond, spectacular walking paths, a large outdoor patio and gardens for BBQ's and entertainment and an outdoor swimming pool — plus professional, certified onsite care — there's no better place than Orchard Walk for seniors who like to enjoy the outdoors and want to stay active. Welcome to a community you can call home.
airline_seat_individual_suite Suite Types:
drive_eta Transportation:
location_city External Services:
room_service in Home Services:
Respite/Convalescent Care Available
local_florist Housekeeping:
local_laundry_service Laundry Services:
wifi In Suite Features:
Individual Climate Control
Emergency Response System
Private Patio/Balcony Option
Furnished Suites Available
attach_money Pricing Information:
Starting Price: $2695.00
Cost for Above Ground Parking: $0
Deposit Amount: $500.00
Suite Held for: 30 days.
local_atm Accepted Deposit Payments:
calendar_today Upon Lease Deposit:
First Months rent required
credit_card Payment Accepted:
all_inclusive Care Levels:
location_city Accreditations
ORCA
Description
The Ontario Retirement Communities Association (ORCA) is a voluntary non-profit association that represents operators of retirement residences in Ontario. Our vision is to lead the sector through innovation to meet the social infrastructure needs of seniors today and in the future. https://www.orcaretirement.com
Retirement Home Regulatory Authority
Description
The Retirement Homes Regulatory Authority (RHRA) is responsible for administering the Retirement Homes Act, 2010 (the Act), which includes licensing and regulating retirement homes on behalf of the government of Ontario. We are an independent, self-funded, not-for-profit corporation, committed to the protection and wellbeing of seniors living in retirement homes. https://www.rhra.ca/en/
Additional fees may apply. All features have been provided by the companies. TheLocalSenior.com is not responsible for confirming accuracy.
Contact Information
phone696-696-XXXX
emailXXXXXX@thelocalsenior.com
Contact Business Directly
Compare this service with another one
place Address: 1491 Manotick Station Rd, Greely, ON K4P, Canada, Ottawa