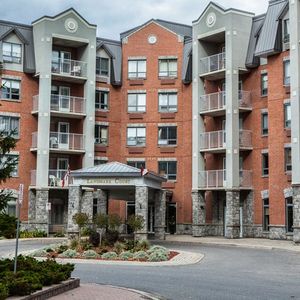 Landmark Court
Built inside an old rock quarry with stunning views of the Gatineau Hills, the luxurious Landmark Court gated community is ideal for nature-loving seniors living an active lifestyle. Located in the heart of Old Ottawa South in Ontario, our retirement residence features 67 Independent Living suites and an array of special amenities, such as a private clubhouse with heated saltwater pool and tennis court. Established in 1998, everything here is designed to encourage your independence and privacy, while enjoying a full social life and taking part in the activities you love.
airline_seat_individual_suite Suite Types:
drive_eta Transportation:
Scheduled Transportation Service
location_city External Services:
room_service in Home Services:
Respite/Convalescent Care Available
local_florist Housekeeping:
local_laundry_service Laundry Services:
wifi In Suite Features:
Individual Climate Control
Emergency Response System
Private Patio/Balcony Option
Furnished Suites Available
attach_money Pricing Information:
Starting Price: $2849
Cost for Underground Parking: $65 per month
Cost for Above Ground Parking: $0
Cost For Storage: $0
local_atm Accepted Deposit Payments:
credit_card Payment Accepted:
all_inclusive Care Levels:
Additional fees may apply. All features have been provided by the companies. TheLocalSenior.com is not responsible for confirming accuracy.
Compare this service with another one
place Address: 140 Darlington Private, South Keys, Ottawa, Ontario, K1V 0X7, Canada, Ottawa