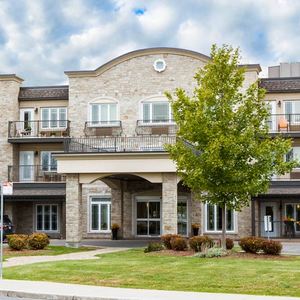 Portobello Manor
Portobello is a warm and elegant retirement residence in Orleans, Ontario. We offer a variety of 110 Independent Living suites, and 20 Assisted Living suites. This is a proudly bilingual community, with an equal number of English- and French-speaking residents. That makes for an engaging and sociable residence. Portobello offers a full spectrum of tailored care, designed to grow with you throughout your retirement. So your service can change to meet your changing needs, while your community and exceptional quality of care remains consistent.
airline_seat_individual_suite Suite Types:
drive_eta Transportation:
Shuttle Service - Personal
Scheduled Transportation Service
location_city External Services:
room_service in Home Services:
Respite/Convalescent Care Available
local_florist Housekeeping:
local_laundry_service Laundry Services:
wifi In Suite Features:
Individual Climate Control
Emergency Response System
Private Patio/Balcony Option
local_atm Accepted Deposit Payments:
credit_card Payment Accepted:
all_inclusive Care Levels:
Additional fees may apply. All features have been provided by the companies. TheLocalSenior.com is not responsible for confirming accuracy.
Compare this service with another one
place Address: 691 Rue Valin, Orléans, ON K4A 0G3, Canada, Ottawa